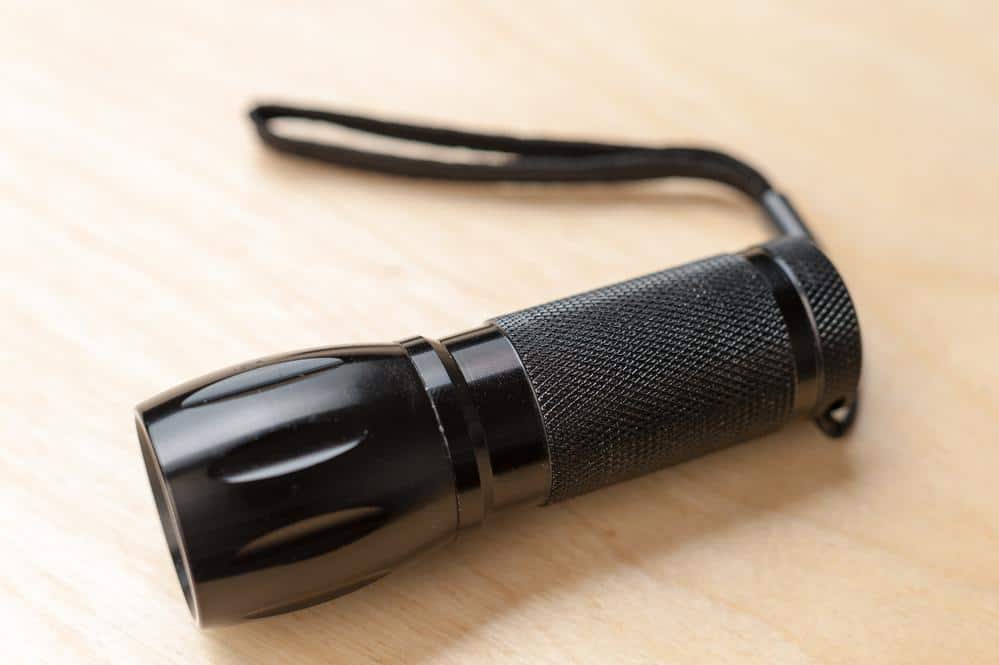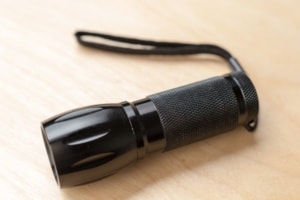 Carrying a flashlight every day just makes sense. This way you have a tool that can help you locate your keys in the dark, walk safely through a parking garage, or have something to use to entertain your cat. The options are endless. That's why the best small EDC flashlights are a simple and affordable investment that will help you carry a flashlight around on your keys, in your pocket, or store in your glove box.
EDC stands for "Everyday Carry." Take a closer look and you'll be able to find a great flashlight in this category that meets your general use needs.
The Best Chart for Small EDC Flashlights

This category of flashlight has received a heavy dose of innovation in the past 10+ years. The flashlights have grown smaller, but they've also grown brighter. The chart below offers you the chance to compare and contrast today's top-rated EDC flashlights so you can make the best possible investment today.
How to Find the Best EDC Flashlight

When you're shopping for a great EDC flashlight, you'll find that most reviews tend to focus on the business end of the flashlight. This is for a good reason: the reflector, lens, and bezel will directly affect the quality of the light beam you're able to receive. Poor quality items in the head of the flashlight result in a poor quality beam.
This means each key component has certain features you'll want to look at as you're shopping around for the best small EDC flashlights.
The reflector will help the flashlight provide a beam of light that is strong and stable. Smooth reflectors are usually what you'll find, made of polished plastics or metal. This gives the flashlight a better overall throw. Textured reflectors are the best choice for flood-style beams. Some flashlights in this category may not have a reflector at all.
The lens on the best compact flashlight is the small "window" that will protect the LEDs or other bulbs but still allow light to pass through. Most EDC flashlights have a flat lens that does not alter the beam that is created. Look for adjustable lenses for more flexibility within this category.
The bezel is the outer ring on the head of the flashlight. Sometimes it is used as a switch or to adjust the beam, but many of the best pocket flashlights have a stationary bezel. If you see an EDC flashlight with a scalloped bezel, then it will have notches cut into it so that you can see if the light is on if it is standing head-down on a surface.
There are plenty of options to consider here and each can meet a specific need. By understanding those needs, you'll be able to find the best small EDC flashlight at a great price today.
What You Need to Know About LEDs and EDC Flashlights

When you look at the listing descriptions for the flashlights in this category, you'll find that there are two LED manufacturers that are generally used to create a light source. They are Cree and Nichia. You'll often see Cree fully capitalized in titles and descriptions (i.e. CREE), but it's just the manufacturer of the LEDs – not a term you need to know.
Cree LEDs tend to be used in the best keychain flashlights and other EDC models where a bright white light is required. Nichia tends to be the LED manufacturer for EDC flashlights that require a high color-rendering index. If you want the environment to have true colorization as if daylight were shining on it, then Nichia LEDs are what you want. Otherwise, stick with Cree.
You'll also find that there are different abbreviations in EDC flashlight descriptions in titles. This may include the following.
These are all different LED types that are offered by Cree. Cree names their LED based on model number, version, and bin. This allows you to identify the specific LED that is being used in the flashlight model you prefer.
Bin numbers are a reflection of the brightness that the LED is able to offer. A standard bin abbreviation you'll find is "T6." Sometimes EDC flashlights have a U2 bin abbreviation instead. The brighter LED is the U2 in this example because of the alphabetical designation. LED lights with a "Z" designation are the brightest, with "A" designations being the dimmest.
What Materials Should Be Used in My EDC Flashlight?

When you're looking for the best small EDC flashlights, you'll find that there are three standard materials used to create a durable product.
Aluminum. This is the most common metal that is used for flashlights. It's lightweight and a good conductor of heat. Some will come with an oxide coating that makes the flashlight incredibly durable.
Titanium. This type of housing offers better balance than other metals without changing the overall durability that the EDC flashlight can provide. This option is usually heavier than aluminum flashlights and heat treatments can make them virtually indestructible.
Stainless Steel. This metal is harder than aluminum, but it is also very heavy. These are a good choice if you're looking for self-defense options with an EDC flashlight.
Some select flashlights in this category may also use copper or brass as part of the overall frame. These flashlights tend to develop tarnishing or a patina over time, which can enhance the look of the flashlight itself. The advantage is that they offer the best heat management solutions while providing a solid level of corrosive resistance.
The cheapest flashlights in this category may not use metal at all. High-quality plastics are used to replace metal components to reduce weight and cost.
What Lumens Mean for the Best Small EDC Flashlights

There are two ways to measure lumens in the flashlight industry today. The first is to measure the maximum output of the LEDs that are used in the product itself. The other method is to use what is called "out the front" or OTF output. The lumens immediately outside the front of the flashlight are measured to determine lumens in OTF and that generally inflates the number.
For maximum output measurements, you may find that the small EDC flashlights are unable to reach the peak output that the LED could provide. This means you might have an LED capable of 200 lumens, but the maximum output based on the flashlight design is only 120 lumens. The 200 figure is often published by the manufacturer because it is higher.
Your best solution? Look for lumens ratings that are calculated using ANSI standards. These are considered the most reliable in the industry right now and are the easiest to reproduce under regular daily use.
EDC Flashlights and Light Tinting: 3 Options to Consider

Some of the best mini flashlights on the market today are able to offer different tints of light thanks to modern LED technology. We're not talking about the colored LEDs like red or green that some flashlights offer. There are different shades of white that can be produced today and each has unique advantages that should be considered for flashlights that you carry every day.
Cool White. This is your standard flashlight color when using an LED. It produces wavelengths in the blue range so that colors are whitewashed when the light shines on something. These EDC flashlights are good for general indoor use and some urban outdoor environments.
Neutral White. This type of lighting is less harsh. It provides more of a natural viewing experience when used indoors or outdoors. These lights tend to be more of the "flood" type than the "spot" type, so they are not usually intended for long-distance lighting needs.
Warm White. This LED lighting option is more like the traditional incandescent bulb. It offers colors that are more of a yellow and are generally used for outdoor purposes. You'll find better illumination with earth tones using this type of flashlight.
One tint option is not better than the other for all practical purposes. It just depends on what the purpose of use happens to be for your flashlight and what your personal tint preferences happen to be.
What Are the Prices of the Best Small EDC Flashlights?

Pricing in this category is generally affordable for most budgets. Entry-level EDC flashlights that are meant for key chains or similar placement are often priced at $10 or less. Most entry-level flashlights are rarely above $20.
If you're looking to own a flashlight that has more of an exotic metal, such as brass, then the added cost of the metal is in the final purchase price. Exotics tend to be priced in the $40-$100 range.
Certain penlights in this category are priced in the $30-$50 range but may offer multiple levels of functionality. This may include different beam strength options, strobe options, and colored lens options.
Here's Our Top Picks

A single AAA alkaline battery powers the Streamlight MicroStream and this gives you the foundation of a 683-candela peak beam intensity. That's the equivalent of 28 lumens at a beam distance of over 50 meters. It weighs barely an ounce, has a total length of 3.5 inches, and offers a scratch-resistant polycarbonate lens that stands up to daily wear and tear. With a full battery, you can receive about 2 hours of continuous run-time this flashlight. This running time is not affected by continuous switching of the power like some other flashlights.
Click here to look at prices on Amazon and buy now.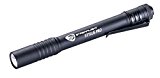 The best flashlights sometimes come in small packages. They can be brighter, more durable, and even give you a tool for self-defense. That's certainly the case when it comes to the J5 Tactical V1-Pro 300 lumen ultra-bright flashlight. Rated for a max output of 300 lumens, you'll find that this flashlight is easy to use, is incredibly durable, and won't cost you an arm and a leg in order to own it. This particular penlight also has an impressive running time. Under regular conditions, it will operate continuously for over 6 hours.
Click here to look at prices on Amazon and buy now.
This is one of the best EDC flashlights in terms of a satisfaction guarantee. You receive a 30-day refund immediately upon purchase, so if you're not satisfied, just send it back and get your cash. You're also given a 2-year free replacement warranty should the flashlight not perform up to expectations. A lifetime maintenance warranty is also included with this product. This means the Glaree E03 keychain flashlight is prepared to back up the quality it claims to have.
Click here to look at prices on Amazon and buy now.
This flashlight has been around for some time. It was first introduced in October 2000, but it is still getting the job done. You even receive the AAA batteries you need right out of the box so you can use the Streamlight 66118 right away. You may encounter an immediate issue with the flashlight. The tail button doesn't always make a proper connection, which means you can click the flashlight on and it won't turn on. The button may also stick a little bit should this occur. Our solution is to put a small rubber pad underneath the button to eliminate the extra space.
Click here to look at prices on Amazon and buy now.
This compact EDC flashlight offers you a maximum output of 500 lumens, which makes it competitive with some of the best tactical flashlights that are offered today. It offers a side-switch option that makes the flashlight easy to control and a PMMA TIR lens that gives you up to a 90% beam transmittance rating. You receive 3 beam modes, including an 8 lumens "moonlight" mode, making this flashlight suitable for any outdoor activity. Give it a look and we know you'll be pleased.
Click here to look at prices on Amazon and buy now.
How is this one of the best EDC flashlights? For starters, you receive a 130-lumen output from a single AA alkaline battery. You also have two other beam settings that allow this flashlight to have a maximum running time of 40 hours. The high-strength aluminum case is backed by a limited lifetime warranty. You'll notice the difference with the grip on this flashlight due to is precision refinement and grip. It is a flexible and affordable flashlight that you'll want to take with you everywhere.
Click here to look at prices on Amazon and buy now.
It may be one of the most affordable flashlights in this category, but it isn't the price that makes it a great EDC flashlight. Sure – its MSRP is just $13.99, but you receive inspection beam optics that have a total throw of 20 meters. It's an impact resistant flashlight, offers water resistance as well, and the ultra-compact frame fits nicely into a pocket. Take advantage of the clip to make sure the flashlight stays put. Don't be fooled by the 54 lumens rating. This flashlight is surprisingly bright. You're going to want it.
Click here to look at prices on Amazon and buy now.
This EDC flashlight has one of the brightest LEDs equipped to it that is on the market today. Most flashlights, including top-priced tactical flashlights, are using either T-series or U-series LEDs. This model is using the new V-series, which means it can produce over 1100 lumens on one single 18650 battery. No other flashlight in this category is of this size and can produce that rating. The side switch is also upgraded to stainless steel from plastics or rubber, which eliminates the one weak spot many EDC flashlights have. Give this flashlight a try and you won't be disappointed.
Click here to look at prices on Amazon and buy now.
This miniature flashlight uses a 14500 rechargeable battery, but it can also use a standard AA alkaline. It's a flashlight that is cheap, durable, and capable of producing up to 300 lumens when the lithium battery is being used. The case is still made from aircraft-grade aluminum and you have a zoom function that can be used with a quick twist of the bezel. The clip is sturdy and strong, though it is a Q-series LED in this flashlight, so brightness might be an issue to some. At this price, however, it's tough to ignore what this little light can do.
Click here to look at prices on Amazon and buy now.
Featuring a 40-meter light cone and aerospace-grade aluminum construction, this is a small flashlight that dreams of being able to accomplish great things. The output of 90 lumens might seem underpowered, but considering the size of this flashlight is similar to a marker, it really over-performs when compared to some of the other best EDC flashlights out there right now. With 4 hours of continuous run time and a rugged design that offers a nice durability factor, this is definitely a flashlight to consider for every day use.
Click here to look at prices on Amazon and buy now.
The best small EDC flashlights prove that bright lights can come in small packages. Whether you're looking for something very affordable or you want a powerful EDC flashlight to serve a variety of needs, you'll find many value investments are available in this category. Choose the one that will best meet your needs and you'll wonder what you ever did without a flashlight by your side every day.