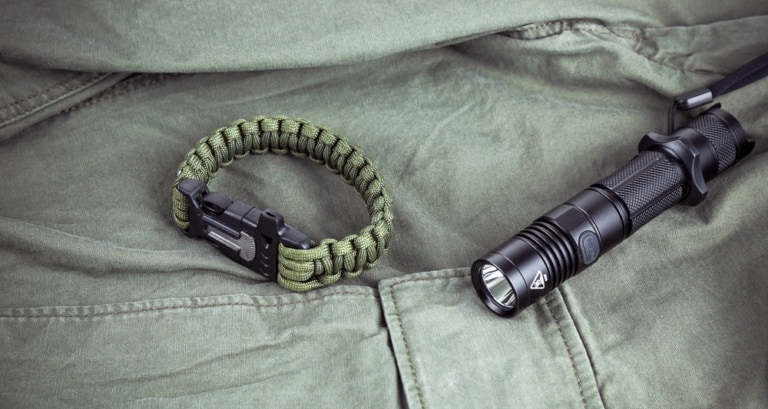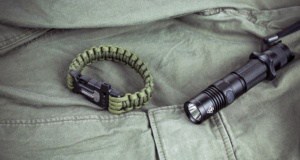 One of the best new flashlight styles to come out in recent years is the tactical flashlight. The best tactical LED flashlights are incredibly durable, offer a strong beam of light, and can run for hours without needing a recharge or a new set of batteries. This way you can purchase a tactical flashlight today that can go hunting with you, go to work with you, and help you get all of your chores done at home.
The Best Chart for Tactical LED Flashlights

Whether you're looking for something small and tough or a flashlight that is large or in charge, you've got hundreds of different options available to you right now. The chart below features only the top-rated tactical flashlights so that you can compare and contrast the very best this category has to offer.
What Is a Tactical Flashlight and Why Do I Need One?

A tactical flashlight is a light that is often used in conjunction with a firearm. This allows you to identify a target in a low-light situation. You can illuminate the target and aim at the same time. Some tactical lights can be mounted to the firearm to give you a parallel light beam, while others are designed to be handheld so that you can hold both the flashlight and firearm in a safe manner.
Thanks to modern innovation, the best tactical LED flashlights offer users a brighter light, a smaller casing, and better overall focus than ever before. They are impact resistant as well, with many models being water-resistant, if not waterproof. This has created a general market demand for these great flashlights that goes beyond any need for hunting, law enforcement, or self-defense.
The reason why tactical flashlights are so strong and durable is because they're usually made from different materials than your standard flashlight. They're able to withstand high impact stressors because they are often made with aerospace-grade aluminum. Handheld models often have a textured grip, use an anti-roll profile, and can fit into the pocket that is most accessible.
The best tactical LED flashlights have several uses that make them a valuable investment.
They can provide assistance in an emergency. Whether the power goes out or you're stranded along the highway, these flashlights can help you make sure you can see when darkness sets in.
They offer a method of self-defense. The best tactical flashlights are incredibly bright, allowing the user to blind a potential attacker. You can also illuminate dark areas to prevent an unforeseen attack, hold a small flashlight in your fist to give your defense added weight, or use larger tactical flashlights as its own improvised weapon.
They help you to complete household chores. Tactical flashlights can also help you fix items at home in a dark corner, help you work on the car, or even help you find the remote that slid underneath the couch.
If you want one of the best value investments you can find in a modern flashlight, then the modern tactical LED flashlight is one of your very best options.
How to Find the Best Tactical LED Flashlight for Me

When you're shopping for a tactical LED flashlight, one of your primary goals should be to find the brightest light that you can afford. The difference in just 100 lumens is pretty amazing. It's always better to have too much light than to not have enough when you need it the most.
A higher lumens rating means you'll need more battery power. Brighter lights can suck the life right out of a battery. You'll find several entry-level tactical flashlights that run on AA or AAA alkaline batteries, but your best option here is a lithium-ion flashlight. Lithium-ion batteries help to maximize the lumens and beam strength that any flashlight can provide.
If you want power options, look for a hybrid tactical that comes with an alkaline battery adaptor to fit inside the tube or casing. The adaptors are usually sold separately, but some tactical LED flashlights do come with "kits" that include the adaptor for the original purchase price.
How you switch on a tactical light matters as well. Many tactical flashlights, especially the smaller ones, tend to incorporate a rear button switch. This gives you a simple way to use the flashlight while being able to keep a tight grip on it. Most tactical flashlights don't offer beam strength options, but some may allow you to click through a low setting before reaching the high setting.
For variable strength beams, the best tactical LED flashlights will turn on high and allow you to cycle to the low setting. This is an important feature to look for if you plan to use the tactical flashlight for anything other than basic home general use. Press once for high, twice for low, and a third time to turn the flashlight off.
Avoid half-press flashlights if you need to use this feature to access the high beam.
How to Properly Hold a Tactical LED Flashlight

Holding a tactical flashlight is a skill all its own. It is important to remember that when you're using a flashlight for the purpose of self-defense, your potential targets are going to focus on the light itself. If you can hold the flashlight properly, especially if you're using it with a firearm, then you can properly defend yourself.
There are three primary techniques that are used for holding a firearm and tactical flashlight together.
Ayoob Technique. This hold has you place the firearm and flashlight together in a two-handed grip. It allows the light to be aimed in the same direction as you aim the firearm while both tools are held out in front of you in a standard stance. For many, this is the most comfortable technique as it requires very little change in technique.
Chapman Technique. This is another two-handed hold where the flashlight and firearm are held side-by-side. The difference with this technique is that the flashlight is held with an upward facing grip, meaning your thumb will be pointed upward instead of downward as it is in the Ayoob Technique. This method works best for the larger and heavier tactical flashlights.
Harries Technique. This technique is another hands-together option, but it crosses the hands instead of forcing the two tools to be gripped together. The firearm and the flashlight are in separate hands, with the flashlight crossed underneath the firearm. This allows for a steadier shot if you expect to discharge your firearm.
For smaller tactical flashlights, the Surefire hold is another option. It only works if the flashlight is small enough to fit between your second and third fingers within a two-handed firing stance.
The current law enforcement technique, however, requires you to hold the tactical flashlight up and away from your body. The idea is that if the bad guy is going to fire at the light, but holding it away from you, the odds of being hit by a shot are greatly reduced. Even if your hand gets hit, your vital organs will stay intact.
The neck technique that you see in the movies is the last option you should use. By placing the flashlight next to your head, you're giving someone a target they can see where a shot could be potentially life threatening.
How to Properly Carry the Best Tactical LED Flashlights

Tactical LED flashlights become an integral component of your gear. Even if you're not using it every day, it is important that your new flashlight be able to augment your current situation instead of creating a hassle. When the flashlight works well for you, then you'll carry it more. If not, you'll probably just leave the flashlight at home and feel like you wasted your money.
Some tactical flashlights come with a carrying case. Others are designed to clip to your belt or holster. You can also find models that work with carabiners, though that may not be the best carrying option for those in law enforcement.
For many, the best way to carry their tactical flashlight is on the hip, right next to the other tools that are being used. This keeps the flashlight in an at-ready position without crowding or dealing with the hassle of finding the flashlight in a pocket. This way you can just grab and go with the flashlight when you need it.
Some of the smaller flashlights in this category can also be carried on a key chain, which is more than suitable for personal use.
What Are the Prices of the Best Tactical LED Flashlights?

The best-selling flashlights in this category tend to be priced around $20. These flashlights are small and durable, with a good lumens rating, but have very few self-defense features. In many ways, they are just a good basic LED flashlight.
If you are looking for a flashlight that can work with your firearm or can perform well in law enforcement situations, expect to pay at least $100 for a good model.
Here's Our Top Picks

A tactical flashlight should allow you to shed darkness with one simple movement. It should offer a bright beam, solid features, and a good weight balance. The Coast HP314 long range focusing LED flashlight does exactly that. You're given access to different beam modes, which includes a strobe feature, that allows for self-defense. The weight of this flashlight allows it to be used as an improvised weapon if need be. This all creates one of the best tactical flashlights on the market today.
Click here to look at prices on Amazon and buy now.
We found that this flashlight is particularly useful for self-defense, certain combat/arrest situations, and for other duties, like window breaking, that might come up. It isn't priced sky high, so it is an affordable addition to your patrol duties, yet doubles up in usefulness when hunting, camping, or other recreational outdoor activities. The design is virtually shockproof and indestructible. You can drop it and it still keeps working. Our testing even dropped it out of a moving vehicle and it still worked fine, though the case showed some wear afterward.
Click here to look at prices on Amazon and buy now.
If you're looking for a flashlight that is virtually indestructible, has LED lighting that is microprocessor controlled, and offers a two-stage light for thousands of life-hours, then your options are limited. There are many imitators out there today, especially in the tactical flashlight category. The SureFire ED2 LED Defender flashlight is more of a contender. With a tightly focused beam that is supplemented by a process called "Total Internal Reflection," you'll find that this is one of the brightest flashlights available today.
Click here to look at prices on Amazon and buy now.
The Streamlight 88031 has been given an IPX7 rating, so it is waterproof in up to 1 meter of water for up to 30 minutes. When combined with the anti-roll face cap the and three modes of operation that can be controlled with one hand, you'll have a positive experience when you use this flashlight. But to be fair, this isn't going to be the brightest tactical flashlight you'll probably ever own. Its high rating is just 260 lumens, while the low beam is rated at 13 lumens. You'll receive a total effective tactical beam distance of 150 meters.
Click here to look at prices on Amazon and buy now.
This tactical flashlight offers three beam functions. Outside of the high beam, there is also an energy-saving low beam and a strobe function that works rather effectively. It runs off of three standard AAA alkaline batteries and has a lifespan that is surprisingly competitive considering the power source. Then a pocket clip is built into the case of this tactical flashlight, allowing you to firmly clip it to a pocket, belt, or pack. It's strong enough to be your backup flashlight while on duty, while being versatile enough to be your primary flashlight when you're out camping, hiking, or fishing.
Click here to look at prices on Amazon and buy now.
At the highest setting, the SureFire R1 Lawman is able to provide 1000 lumens. The medium setting gives you 150 lumens, while the low setting offers 15 lumens. This makes it a versatile tactical flashlight that can be used in almost any environment. In reality, the LED emitter is probably the toughest component on this flashlight. It has a strong impact rating and it features O-rings and gaskets that help to keep out dirt, dust, and moisture. When the microprocessor regulation is included as well, the running time and light level outputs always seem to be maximized.
Click here to look at prices on Amazon and buy now.
Armed with an IPX8 rating, this little flashlight can be submerged in water and it still will not flood. With a depth rating of 2 meters, you won't want to take it diving with you, but you won't have to worry about taking the flashlight out into the weather for outdoor chores or your professional duties. You also have flexibility within the beam strength that the NiteCore Tiny Monster is able to achieve. You have 8 total light settings from which to choose, using a two-stage patented switch from a single button so that the OLED display and interface work well together, easily making this model one of the best tactical flashlights available today.
Click here to look at prices on Amazon and buy now.
Like many tactical flashlights, you're given a tail cap button that switches through your various light beam functions or the strobe feature that comes with this light. What is different here is that you can twist it for a constant beam at the low or high output levels, eliminating the accidental switching or termination of your beam. In return, you'll receive a high output of 800 lumens when using this flashlight. It's perfect for outdoor use and the completion of your professional duties.
Click here to look at prices on Amazon and buy now.
Instead of a tail cap, the iNova flashlight has been equipped with a mid-body switch that accommodates the thumb nicely. You get complete control over the brightness and type of light you want to have. It is even equipped with a momentary mode if you don't need the light on full-time. The switch is also recessed, helping you to avoid accidental disengagement. Then there's the grip. In the handle portion of the case, non-slip grip has been applied so that you can have a professional-grade experience in virtually any environment.
Click here to look at prices on Amazon and buy now.
The case of this flashlight is made from HA-III military-grade hard-anodized aluminum, giving you a durable finish that reduces the overall weight of the flashlight. It weighs just less than 18 ounces. This tactical flashlight comes equipped with XM-L2 LEDs from Cree so that you receive an authentic lumens experience when you turn this flashlight on. It has a beam throw that can reach up to 700 meters on a clear evening. We especially liked the reflector design of the flashlight, which is similar to quad-ray technologies.
Click here to look at prices on Amazon and buy now.
The best tactical LED flashlights do more than give you light when you need it the most. These are tools that help you get your work done. They can be a defensive tool and can help you get out of a sticky situation. Find the model that meets your needs today and you will be pleased with the results you're able to achieve.