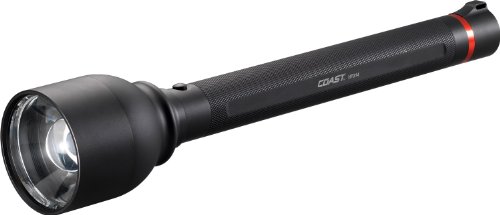 A tactical flashlight should allow you to shed darkness with one simple movement. It should offer a bright beam, solid features, and a good weight balance. The Coast HP314 long range focusing LED flashlight does exactly that. You're given access to different beam modes, which includes a strobe feature, that allows for self-defense. The weight of this flashlight allows it to be used as an improvised weapon if need be.
Yet you can also use this flashlight around the house in low mode to make sure you don't step on those building blocks lurking in the dark without waking everyone up.
If you're tired of those cheap tactical flashlights that are more of an imitation than reality, then you'll find that this Coast model is perfect for the serious professional.
The Highlights of the Coast HP314 Focusing Flashlight

It has the ability to throw a focused beam out over one-third of a mile with its range-focusing system. If you prefer a floodlight, just use the slide system to change the focus with a flick of the thumb.
It uses 4 D-cell batteries to produce light, allowing you to pick-up a few spares with relative ease, even if you happen to be on duty.
This flashlight is backed by a lifetime guarantee against defects in craftsmanship or the materials used to build the flashlight.
It has a certain level of weather-resistance built into it. You wouldn't want to submerge this flashlight, but it will stand up the rain, sleet, or snow that you deal with while on duty or handling your household chores.
We found that the focus mechanism stayed in place with a higher level of firmness compared to other tactical flashlights of this type. With a lumens rating of over 1000, you'll even receive everything in a nice padded case. A shoulder strap and a belt loop holder are also included with this flashlight.
Is This the King of Tactical Flashlights?

This flashlight is large. It's over 18-inches in length, so it is definitely designed for tactical purposes more than household chores. This also means the flashlight is pretty heavy, though without the batteries it weighs just 5 ounces. We particularly like the fact that the batteries fit snugly into the case without any rattling around.
We estimate that this flashlight would be assigned an IPX4 rating. All measurements, ratings, and standards are ANSI-certified through independent testing. The fit and finish are what you'd expect from a premium flashlight and the total feeling is that you're getting the best of what is available to you.
If you use the low light setting, which is brighter than some other tactical flashlights, you can receive a battery life that comes close to 200 hours.
When you need a tactical flashlight that can help you get out of a sticky situation, find a suspect or target, or you just want to have fun and light up an entire parking lot, then the Coast HP314 flashlight gets the job done. It is an incredible flashlight and earns our strongest recommendation.
Click here to look at prices on Amazon and buy the Coast HP314 Long Range Focusing LED Flashlight.