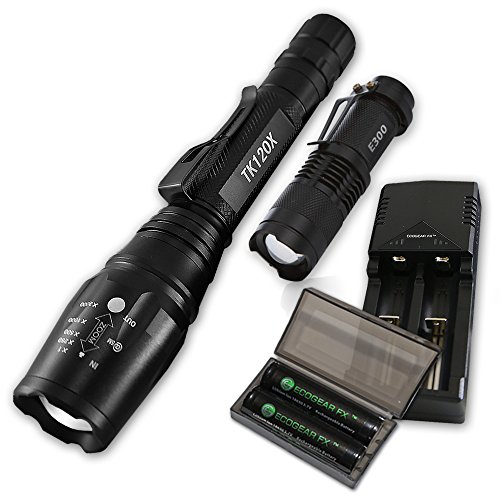 What's better than receiving one great flashlight? How about receiving two! With the EcoGear FX professional grade LED flashlight kit, you'll receive a free mini LED flashlight, the powerful professional grade flashlight, and the rechargeable batteries with a charger so you can maximize the potential of this product. The ultra-bright light shines a focused beam for up to nearly 1,000 feet and you receive the standard 5-mode option to cycle through if needed.
What Are the Features of the EcoGear FX Professional Flashlight?

For the sake of clarity, this review focuses on the professional grade tactical flashlight only.
We found that this flashlight is particularly useful for self-defense, certain combat/arrest situations, and for other duties, like window-breaking, that might come up. It isn't priced sky high, so it is an affordable addition to your patrol duties, yet doubles up in usefulness when hunting, camping, or other recreational outdoor activities.
These are the features that we found really make the EcoGear FX professional flashlight stand out.
It is virtually shock-proof and indestructible. You can drop it and it still keeps working. Our testing even dropped it out of a moving vehicle and it still worked fine, though the case showed some wear afterward.
The case itself offers a hard anodized finish over an aluminum alloy, so it can stand up to the heavy daily wear and tear of the job without difficulty.
It operates off of two 18650 rechargeable batteries and offers 5 levels of zoom capability in addition to the five different light modes that are featured.
It is designed to be weather-resistant, with an estimated IPX4 rating based on our observations with this flashlight.
The EcoGear FX can withstand the precipitation you'll encounter while doing your job. At 7 ounces, it has enough weight to work as an improvised weapon or submission tool. Its lumens rating is bright enough to shine into a stopped vehicle or a dark pasture so your work can be done safely.
Is the EcoGear FX Professional a Heavy Duty Tactical Flashlight?

Although this is a nice tactical design, to say this is an authentic tactical flashlight might be a stretch for some. Right upon getting it out of the box, you'll find warnings against submerging this flashlight in water or dropping it. If you can't drop the flashlight without a threat of breaking it, how can you expect it to recover after a slap to the side of a head of a bad guy?
Yet we found the durability to be above expectations. The only real design complaint we have is that the head of the flashlight tends to work its way loose after a few hours of use.
We also found the on and off light tends to be a bit sticky at times. Push it too hard and you might inadvertently break it.
Although there are some issues with this tactical flashlight that deserve careful observation, as a value purchase, it's tough to argue against what the EcoGear FX Professional Tactical flashlight kit can provide you. It's a nice set that is a budget-friendly investment.
Click here to look at prices on Amazon and buy the EcoGear FX Professional Grade LED Flashlight Kit.