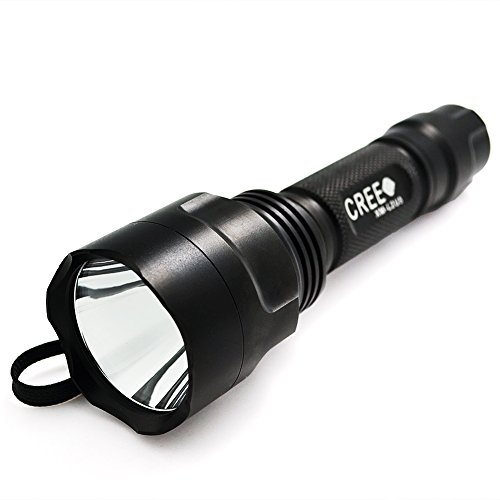 Some flashlights try too hard to be something they are not. They incorporate lots of features, jack up the price, and wind up having low user ratings because they're inconsistent and difficult to use. At first glimpse the Forrader Super Bright LED flashlight torch seemed to fall into this category. After all, it offers the five beam option, has tactical flashlight features, and hits all of the "anodizing" keywords.
Yet when you get your hands on this flashlight and give it the 18650 battery it needs (no battery comes with this model out of the box), the story it tells is one that is very different than its first impression.
The Forrader LED Flashlight Gets the Design Right

There are three aspects of the design with this Forrader flashlight that were done right: the LED upgrade, the aircraft-grade aluminum housing, and the smooth reflector. This flashlight is equipped with a U3 LED with a large, smooth reflector that really gives you a nice throw. The housing is fairly smooth, but the ergonomics built into the design allow you to still have a good grip.
We also liked the belt clip that comes with this flashlight. It allows you to keep this compact tool within reach so that you have a portable lighting solution when you need it. The flashlight is a tad heavy, so you may want to clip it to a belt instead of directly to the waistband of your pants or shorts.
When using the high beam mode on this flashlight, it is difficult to dispute the 1,000-foot distance rating. The 2000 lumens rating seems to be a little high, but the low beam rating of 800 lumens seems to be fairly accurate. This makes the Forrader super bright LED flashlight torch one of the brightest that we had the privilege of taking a look at.
What to Watch for with the Forrader LED Flashlight

This flashlight offers a fixed beam experience. The tint output is good and the beam width isn't too wide, but you will not be able to spot-focus this beam. If that's a feature you want, then you'll need to look at a different LED flashlight.
The flashlight itself can get a little hot if you use it for an extended period of time. Since this occurs more in the housing than around the head of the flashlight, we suspect that it could be a battery issue in combination with a thin case. If you use this Forrader flashlight in a standard household setting, you shouldn't encounter many issues with this potential problem.
It is important to remember that this flashlight is not really designed to be a tactical light. In terms of self-defense, it isn't going to accomplish much. The push-button setting change is pretty easy to use, but there isn't a memory feature. You will always need to cycle through your beam settings to reach your preferred option.
If you want an affordable flashlight that is surprisingly bright, then the Forrader Super Bright LED flashlight torch could be the right investment to make. We had a lot of fun looking at this flashlight and it has earned our recommendation.
Click here to look at prices on Amazon and buy the Forrader Super Bright LED Flashlight Torch.