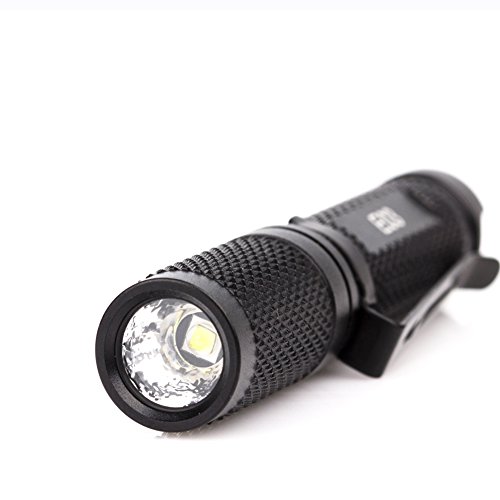 Ever needed a flashlight, only to discover that you didn't have one around? Do you get tired of trying to find the flashlights that you've stuck in a drawer or on a shelf? The Glaree E03 keychain flashlight offers you an everyday carry solution that makes sense. You need your keys on a regular basis, so attach this flashlight to your keychain and you'll never be stuck in the dark again.
Since it is a keychain flashlight, the lumens rating and beam strength isn't going to blow your mind. You'll still get 150 lumens from this miniature flashlight that consistently shines for up to 45 meters. It is the other features that make this flashlight such an attractive bargain.
What Are the Features of the Glaree E03 Keychain Flashlight?

This is one of the best EDC flashlights in terms of a satisfaction guarantee. You receive a 30-day refund immediately upon purchase, so if you're not satisfied, just send it back and get your cash. You're also given a 2-year free replacement warranty should the flashlight not perform up to expectations. A lifetime maintenance warranty is also included with this product. This means the Glaree E03 keychain flashlight is prepared to back up the quality it claims to have.
We saw that quality on display thanks to features like these.
It attaches to a keychain via a clipping mechanism, so you can carry it in other ways if you prefer. Clip it to your pocket, your purse, your belt, or even your backpack mesh so that you can quickly access a flashlight when it is needed.
It is an AAA flashlight that will run between 30-90 minutes continuously, depending on the quality of the battery that is being used.
It weighs less than one-half ounce, yet still offers a completely waterproof user experience. This mini flashlight has been given an IPX8 rating for submersion in up to 2 meters of water.
There is an added level of impact resistance with this flashlight as well, easily surviving multiple drops from waist-high.
You also have multiple beam modes with this light, including the advantageous moonlight mode so you don't disturb others if you need to move around at night.
Our Impressions of the Glaree E03 Keychain Flashlight

Like many EDC flashlights, you need to twist the bezel in order for the flashlight to turn on. This makes changing the modes a bit more complicated than it really needs to be. To activate moonlight mode, you need to rotate the head to the off position and then, after 10 seconds, it will start from there. Otherwise it has a memory mode for your previous setting.
The beam tint you receive is more of a cool white light. This tends to whitewash colors if you're up close to an item.
Considering how bright this flashlight is for its price, the only real issue we have with the flashlight is that there is no switch or button to operate it. Twisting the front repeatedly can be tiring and may prematurely wear out the flashlight. Otherwise we find that this is a great little flashlight that you'll love having around.
Click here to look at prices on Amazon and buy the Glaree E03 Keychain Flashlight.