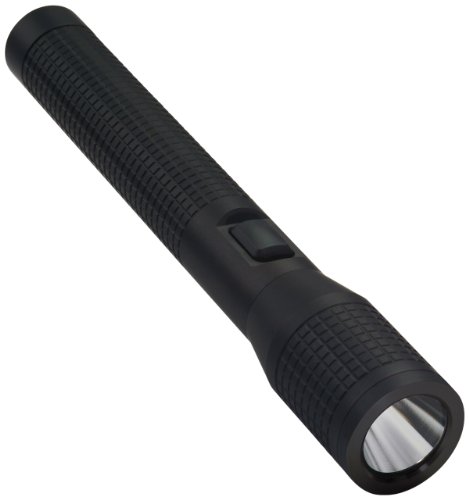 For the best tactical flashlights to work properly, the manufacturer has to be able to get the foundational elements of design right. The flashlight must be firm, steady, and be able to throw out a bright light on demand. For the iNova T5 lithium powered LED flashlight, you can have confidence in those design structure. Light outputs are about 450 lumens on high, with a run time of 2.5 hours, and it's all done on 3 CR123 lithium batteries.
This all supports an energyefficient lifetime LED that gives you one of the most dependable flashlights on the market today. Here's what else we found out about this flashlight when taking a closer look at it.
#1. It has one of the best switches in this flashlight category. Instead of a tail cap, the iNova flashlight has been equipped with a mid-body switch that accommodates the thumb nicely. You get complete control over the brightness and type of light you want to have. It is even equipped with a momentary mode if you don't need the light on full-time. The switch is also recessed, helping you to avoid accidental disengagement.
#2. The size helps you be able to carry it into virtually any situation. It may only be 9 inches in length, but the iNova T5 does an excellent job in terms of ruggedness and general output. Not only is the casing sturdy enough to withstand most common-use falls, but it can also be utilized as a self-defense tool in the completion of your professional duties. It really is that strong.
#3. You'll never lose your grip on this handle. Whether it's cold outside, you're wearing gloves, or your hands are wet, you will not lose your grip on this flashlight. In the handle portion of the case, a non-slip grip has been applied so that you can have a professional-grade experience in virtually any environment.
#4. Battery life is the one knock against this flashlight. Considering the high output is fewer than 500 lumens, it would be nice to see a battery life that is more than 2.25 hours. Part of this is due to the fact that it will only take 3 CR123 batteries for power, which are included with your initial purchase. It is still bright and gives you the traditional tactical experience, but if you need continuous use at high levels, you might find yourself feeling a little disappointed.
#5. We recommend purchasing a holder or holster for this flashlight. The iNova is just long enough that it isn't really comfortable to carry it in a pocket. It does not come equipped with a clip either, so you'll want to invest into a holster or holder if you do not have one already.
At just over 10 ounces, the iNova T5 lithium powered flashlight offers you a lightweight, but durable model that will help you get your work done. It is easily one of the best tactical flashlights on the market today.
Click here to look at prices on Amazon and buy the iNova T5 Lithium Powered LED Flashlight.