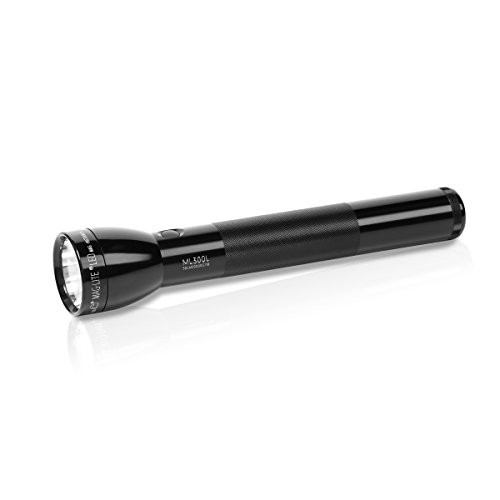 When you're looking at the best and brightest LED flashlights, many tend to be lightweight all-environment models. The goal of the flashlight is to be as versatile as possible and packed with tons of features. The Maglite ML300L LED 3-cell D flashlight is a whole different breed of flashlight. It's heavy and design more for activity-based functions than for general use. This includes tactical and general law enforcement use.
Yet if you live in a rural environment and need a reliable outdoor flashlight, you won't go wrong with this one. Here's why.
What Are the Features of the Maglite ML300L?

The primary feature that stands out on this flashlight is its advanced focusing system. By turning the head of the flashlight less than a quarter turn, you're able to adjust the light from its natural spot-style beam to a flood light and it takes just seconds. This allows you to illuminate an entire area of a field or yard or focus a beam of light to over 400 meters away. The beam itself is smooth, more toward the white scale in tint, and very reliable.
You may also want to take note of these additional features that we took a look at with the Maglite ML300L.
It features a multi-mode electronic switch to help you cycle through the various beam settings you have. You have access to a full or low power mode, and economy mode, a momentary mode for a brief inspection light, and there is a strobe function.
The precision-machined case itself is made from anodized aluminum, including inside the case itself, so that you have a better resistance to corrosive environments.
High-grade rubber seals have been included within the flashlight to promote a greater level of water-resistance, though this particular flashlight is rated at IPX4.
Maglite flashlights are designed and manufactured in the United States. They are backed by a limited lifetime warranty, have optics that are balanced well within the design of the flashlight, and this gives you a maximum performance every time you click the flashlight on.
How Did Our Testing Period Go?

When we got to take a look at the Maglite ML300L, there were two primary issues that we encountered. The first is how to cycle through the various beam functions that are available. If you want to alter the light level, you have to be very precise in how you tell this flashlight. Most of the time, until you get used to the pressure that is required, you're going to be turning the flashlight off.
The LED on this flashlight does have the tendency to work its way loose if you are very active with the light. We could replicate other user claims of this by shaking the flashlight repeatedly over a period of a few minutes. Take time to examine the flashlight before every use to make sure you're not left out in the dark.
If you're looking for an entry-level Maglite that, with some care, could give you a large amount of illumination on a dark night, then we highly recommend this flashlight to you. The Maglite ML300L may not be perfect, but it gets the job done.
Click here to look at prices on Amazon and buy the Maglite ML300L LED 3-Cell D Flashlight.