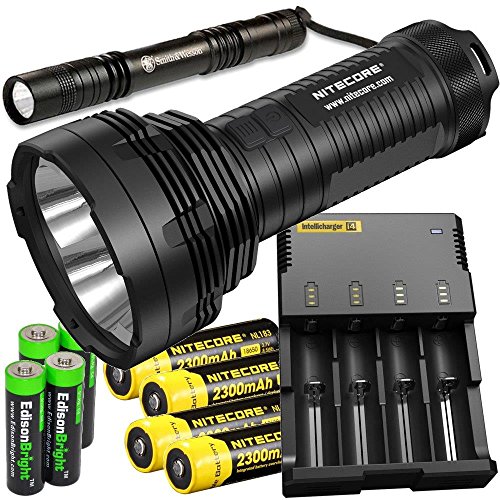 Many of the best tactical flashlights are lengthy and nearly oversized. That makes them useful for an improvised weapon but makes it difficult to carry over a long period of time. The NiteCore TM16 is a 4000-lumen flashlight that proves you can have a bright light in a compact frame without losing the option for self-defense.
What we appreciated most about the design of the NiteCore TM16 was the ATR technology that has been incorporated into it. ATR stands for Advanced Temperature Regulation and it makes a real difference. With four 18650 batteries being used to power this flashlight, other models would get quite warm to the touch. Not the TM16.
What Are the Features of the NiteCore TM16?

The case of the flashlight is made from HA-III military-grade hard-anodized aluminum, giving you a durable finish that reduces the overall weight of the flashlight. It weighs just less than 18 ounces.
This flashlight comes with a kit that includes a second EDC flashlight, an i4 Universal Intellicharger that identifies multiple types of rechargeable batteries, and the NiteCore NL183 battery that gives this flashlight the power it needs.
It comes equipped with XM-L2 LEDs from Cree so that you receive an authentic lumens experience when you turn this flashlight on. It has a beam throw that can reach up to 700 meters on a clear evening.
The reflector design of the flashlight is similar to quad-ray technologies, with four LEDs working together with a shamrock-style reflector to throw out a massive amount of light.
We liked the fact that you have direct access to the turbo and ultra-low settings that are available with this flashlight. Instead of needing to cycle through all of the different features like other tactical flashlights require, you have one-button convenience to enter your preferred mode.
In total, you receive 5 different levels of beam brightness and then 3 concealed special modes. There is a location beacon mode equipped with this flashlight in addition to the standard SOS and strobe modes that many of the best tactical flashlights tend to offer.
How Durable is the NiteCore TM16?

We discovered that the NiteCore TM16 is one of the most durable flashlights that are on the market today. It has been given an IPX8 rating thanks to the quality of the gaskets and seals used within the design. At the 4000 lumens level, you receive just 45 minutes of continuous run time, but at the 1780 lumens level, this flashlight can operate for 2.5 hours. This is despite being just 7 inches in length.
As for impact resistance, however, the NiteCore TM16 is about average. It's rated for an impact of up to 1.5 meters, which is about waist-high.
If you're looking for a tactical flashlight that is strong and guarantees a one-handed user experience, then the NiteCore TM16 should be strongly considered. It is called the "Tiny Monster" for a reason. It is a sturdy flashlight with a smooth, high-quality beam and offers a rear tripod connector for extra functionality. It does what it says it can do, which is all you can ask of a modern tactical flashlight today.
Click here to look at prices on Amazon and buy the NiteCore TM16 4000 Lumen Flashlight.