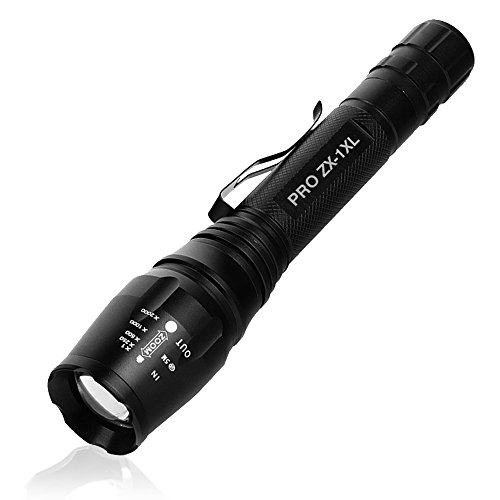 Some flashlights try to give you all the bells and whistles and jack up the price because of it. Others try to be as cheap as possible, giving you a flashlight that breaks down in a month or two. The Solaray ZX-1XL Professional Series Flashlight takes a different approach. You get the features that you want, a beam quality that you need, and it is offered for a price that is reasonably fair.
If you're on a budget, but want a flashlight with a reasonably good quality level, then this is the flashlight for you. Here's why.
What Are the Features of the Solaray ZX-1XL?

The flashlight itself is protected by an aircraft-grade aluminum housing that has some water-resistance built into it. Although you can't submerge this flashlight in water, if it gets splashed, it will likely survive.
It is a surprisingly bright flashlight. Although the 1600 lumens rating seems to be slightly over, you can definitely see this flashlight outperform many other models at this price point.
The Cree LEDs feature a single-die super-silicon carbide and the XM-L chip to give you a quality beam that allows you to have flood-type or spot-style beams based on a quick turn of the zooming mechanism.
The tail switch is durable and has a nice resistance to it. The 5 beam options are accessed through a half-pressure touch that is somewhat tricky to implement, but you do get used to the process over time.
It has been equipped with a memory mode so that it will remember the last specific mode you used with the flashlight. There is a 5-second minimum requirement for the memory mode to kick in, however, so it may not always work as expected.
The Solaray ZX-1XL flashlight operates off of two lithium-ion batteries, but these are not included with your purchase. Other brands of batteries do work with this flashlight, but the brand name batteries do seem to maximize the brightness that this flashlight can achieve.
An Overview of Our Experience with the Solaray ZX-1XL

This LED flashlight is a lot bigger than you might think it is. The design is similar to those ultra-small tactical flashlights that are for sale today, but it easily has 2-4 inches more in size than an entry-level tactical from other brands.
The first thing we noticed was the clip, which is designed to be clipped to a holster or belt instead of a pocket. You will need to wear this flashlight in a vertical fashion.
We also found that this flashlight is somewhat picky on the batteries that it will accept for use. Some brands will not work at all with this flashlight, most notably Samsung, so we recommend sticking to the Solaray batteries for best results.
You get a solid grip on this flashlight. The weight and balance are good. We did notice that sometimes the flashlight may start the strobe function on its own. Cycling through the beam options stops this from occurring.
For the price, it's tough to beat the number of features and the overall beam quality that you're able to receive with the Solaray ZX-1XL. It looks great and will get the job done.
Click here to look at prices on Amazon and buy the Solaray ZX-1XL Professional Series Flashlight.