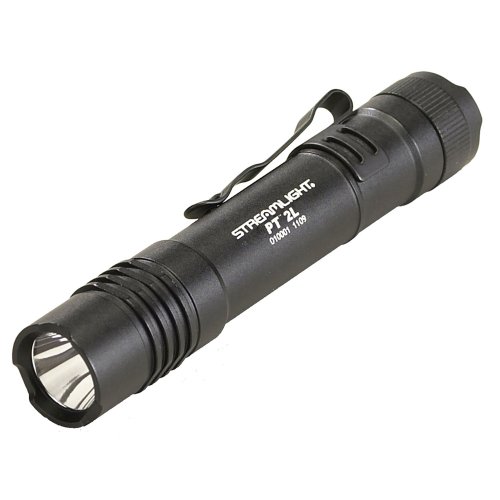 What do you feel is the most important feature in a tactical flashlight? This is a question that can provide a wide range of answers. If you prefer a waterproof flashlight as your primary feature, then the Streamlight 88031 ProTac high-performance flashlight is one of your best options today. It's also one of your most affordable options, which is a definite plus.
The Streamlight 88031 has been given an IPX7 rating, so it is waterproof in up to 1 meter of water for up to 30 minutes. When combined with the anti-roll face cap and three modes of operation that can be controlled with one hand, you'll have a positive experience when you use this flashlight.
Our Impressions of the Streamlight 88031 Flashlight

To be fair, this isn't going to be the brightest tactical flashlight you'll probably every own. Its high rating is just 260 lumens, while the low beam is rated at 13 lumens. You'll receive a total effective tactical beam distance of 150 meters.
What you do receive is an affordable self-defense tool that includes a bright strobe that can be run for as long as 6 hours continuously. This, when combined with the anodized aluminum case, gives you an impact-resistant tactical flashlight that can stand up to the rigors of daily use.
We also really liked the lightweight nature of this particular Streamlight flashlight. Even with the two CR123A lithium batteries installed, the flashlight weighs less than 3 ounces. With a length of nearly 5 inches, but a diameter of less than an inch, you have a compact tactical solution that can help you see clearly when times get tough.
Here's What You Need to Know About the Streamlight 88031

The batteries that come with this flashlight can be recharged within the case. You receive brand-specific batteries with the purchase price. It will work with most other rechargeable batteries of the appropriate size, but you may find that the performance does not meet the stated standards offered by the manufacturer.
We also appreciated the fact that unlike other tactical flashlights that use a small, tightly focused beam to boost the stats of their flashlight, Streamlight has given this model an overall good quality. It might not have the distance or lumens ratings of other flashlights at this price point, but you're going to receive a better overall quality of light.
The pocket clip that comes with this flashlight is fairly sturdy. We'd recommend using a nylon pocket for best results.
It can be somewhat difficult to achieve the strobe setting. This is because the flashlight also has a momentary light feature, so a light press gives you instant light. A medium press switches between functions, while a hard press turns the flashlight off. It's probably the most difficult aspect of using this flashlight.
Many tactical flashlights use a similar feature-switching function, so the Streamlight 88031 tactical flashlight can be used effectively once you get used to it. If you're willing to put in a little time to get to know this affordable flashlight, you'll find the time was an investment that was well spent.
Click here to look at prices on Amazon and buy the Streamlight 88031 ProTac High-performance Flashlight .