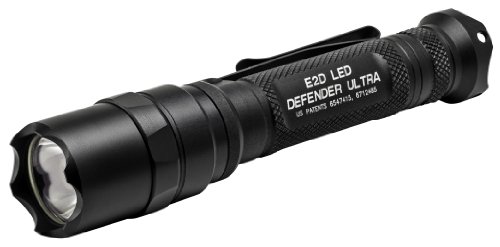 If you're looking for a flashlight that is virtually indestructible, has LED lighting that is microprocessor controlled, and offers a two-stage light for thousands of life-hours, then your options are limited. There are many imitators out there today, especially in the tactical flashlight category. The SureFire ED2 LED Defender Ultra flashlight is more of a contender. With a tightly focused beam that is supplemented by a process called "Total Internal Reflection," you'll find that this is one of the brightest flashlights available today.
Our Observations About the SureFire E2D Defender

What we really appreciated about the design of this flashlight was the actual scope of light that it was able to produce. Even when you're looking at a long-distance target, there is enough secondary light to prevent blind spots in your peripheral vision. This way you can see short-range targets trying to sneak up on you while maintaining a longer focus at the same time.
These are the additional features we appreciated seeing with this particular tactical flashlight.
It features a scalloped tailcap and head so that you have multiple self-defense options, as well as a useful multi-tool for emergency situations.
The body of this SureFire model is made with a Type III anodized aluminum, giving you a very solid flashlight that has a firm grip thanks to the light checkering in place along the middle of the case.
A clip with a firm spring allows you to clip this flashlight to your service belt, add it to a holster, or even keep it in a pocket if that is your preference.
You receive two light output levels. The maximum tactical output is rated at 200 lumens, but this is a genuine measurement instead of a max output measurement. This means although the rating is lower, you'll find this flashlight tends to be a lot brighter than competitive models.  It takes two CR123A batteries and offers a low output running time of over 75 hours, while the tactical runtime is about 2 hours.
What You Need to Know About the SureFire E2D Defender

This flashlight does not contain a strobe setting. For self-defense purposes, it is more of an improvised weapon than a blind-then-flee type of tool.
You can stand this flashlight up on its tail cap, if you wish, so there is a stationary light for certain needs. The non-reversible clip does add a little weight to one side, so you may need to balance the light before it will stand up correctly for you. This design also makes it a little difficult to activate the button since you need to reach your thumb over the scalloped tail cap. Some users may need to adjust their grip.
There is no lanyard, holder, or another support item that comes with the SureFire E2D Defender. The clip is the only way to carry the flashlight outside of slipping it into a pocket or holding it in your hand.
The bottom line is this: the SureFire E2D LED Defender dual output tactical flashlight is rugged, durable, and bright. If you need a reliable tool to get your next job completed, then we recommend giving this model a strong look.
Click here to look at prices on Amazon and buy the SureFire E2D Defender Ultra Dual-Output Flashlight