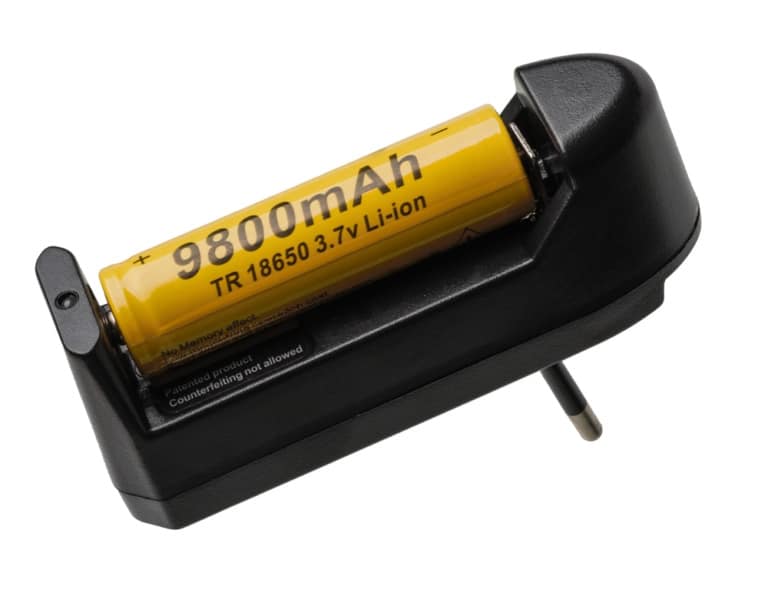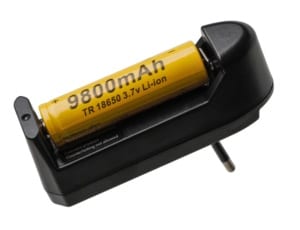 Flashlights are indispensable tools. The only problem is that when you use a flashlight with alkaline batteries, they tend to run out right when you need them most. When you have the best 18650 flashlights and best 18650 batteries at your disposal, you'll have a strong beam from a rechargeable flashlight. These flashlight/battery combinations are powerful, consistent, and only take a few hours to completely recharge.
The Best Chart for 18650 Flashlights and 18650 Batteries

You'll find a wide variety of flashlight options within the 18650 category. You'll also find several battery options. The chart below will let you make sure you're purchasing a top-rated flashlight and battery combination that works best for your needs.
What Are 18650 Flashlights and Why Do I Need Them?

18650 flashlights have been given their name because of the rechargeable batteries they use for power. They are typically built like your standard alkaline battery flashlight, but you're given the advantage of having a permanent rechargeable experience. This allows you to keep having the light you need without worrying about replacing your batteries on a regular basis.
You're also given these advantages when you invest into a modern 18650 flashlight.
Lumens. The 18650 flashlight offers you a higher overall lumens rating in most designs compared to their alkaline counterparts. It is not uncommon to see 1000+ lumens ratings on flashlights in this category.
Beam Power. The rechargeable battery also supports a stronger overall beam, allowing the flashlight to cover a greater distance. For spot beams, you may find a range of a half-mile or more in this category.
Size. You get a lot of power out of flashlights that are compact in size thanks to these rechargeable batteries. You'll also find several tactical and EDC flashlights in this category that can serve multiple light needs from a lightweight, durable frame.
When you're looking at the best flashlights that are available today, a majority of them are going to either be 18650 flashlights or 18650 hybrids.
The 18650 hybrid is a unique flashlight that offers you the chance to remove the lithium-ion battery and use alkaline or alkaline rechargeables instead. You're able to do this because of an adaptor that fits inside the tube of the flashlight. In the best flashlight reviews, you may notice different power ratings when looking at the specific details of the flashlight.
This is because the alkaline batteries offer a different amp rating than the lithium-ion battery, so the lumens rating and beam power is lower.

What Are 18650 Batteries and Why Do I Need Them?

The 18650 battery is named because of its size. It is 18 millimeters by 65 millimeters, so you put the two numbers together and add a 0 to designate the lithium-ion design of the battery. If you were using an AA battery that was lithium ion, it would be a 14500 battery because AAs are 14 millimeters by 50 millimeters.
These lithium-ion batteries give you a number of benefits when you're using them to power up your flashlight.
Shape. The shape of the 18650 battery is similar to the AA battery, so it offers a familiar experience that makes the power source easy to use.
Packs. These batteries can work independently or they can work in packs to provide a full power source. Just about every 18650 battery is adaptable for assembly into a battery pack or flashlight system.
Voltage. A standard 18650 battery will usually be rated between 3.5-3.7 volts. This gives you the ability to have a strong beam from your flashlight.
When shopping for the best 18650 batteries, you have to pay close attention to the actual voltage range that is offered by the product. Some of the batteries will only produce 2.5 volts, which may not be enough to give you the quality flashlight experience that you want. On the other end of the spectrum, some of the best batteries in this category can reach upwards of 4 volts without issue.
Capacity is another issue to look at carefully with the best battery reviews in the 18650 category. Most of these lithium-ion flashlight batteries are rated for capacity in milliamp-hours, which is abbreviated like this: mAh.
You'll also receive a rating for the maximum level of continuous discharge, which is a measurement in amperes or just "amps" for short. When choosing the best 18650 battery for your needs, you'll have to choose either storage or output as your primary preference. High storage batteries have a low maximum amperage, while high amp batteries have a low storage capacity.
The highest capacity batteries are usually around 3500 mAh, while the highest amperage options are around 30 amps.
What Are the Benefits of Lithium-Ion Batteries?

They offer a high energy density. This allows the flashlight to operate for a longer period of time before needing a recharge.
They self-discharge at a rate that is much lower than standard alkaline batteries. Lithium-ion batteries even lose their charge at a rate that is much lower than other rechargeable options, such as NiCD and NiMH batteries.
They require no priming to work when receiving their first charge. Just fully charge the battery before using it and you're ready to go.
They require very little maintenance. Lithium-ion batteries don't need to be discharged on a regular basis to ensure their performance and exhibit very view memory effects.
What Are the Prices of the Best 18650 Flashlights and 18650 Batteries?

18650 flashlights are reasonably affordable, with several entry-level models offered in the $50 or less price range. These are typically small, compact flashlights that offer a lumens rating of 500-1,000.
You can also find flashlights in this category which exceed 2,000 lumens and may be priced in the $250-$350 range.
Most people will find a solid flashlight between these two pricing extremes that meets their needs.
18650 batteries are generally priced at $5-$10 per battery. Higher capacity batteries or higher amperage batteries may be in the $15-$20 per battery range.
Here's Our Top Picks
With up to 1800 lumens being offered in a compact design, this is an ultra slim 18650 flashlight that you're going to love. It offers a dual light and strobe feature that will light up your surroundings in a cool white tint. The design includes a digitally regulated output that allows you to maintain a consistent level of brightness even when battery power is close to being depleted. It features an IPX8 rating and has reverse polarity protection as well.
Click here to look at prices on Amazon and buy now.
This professional series flashlight kit gives you two flashlights instead of just one. You'll also receive the 18650 batteries and the charger you need. The brightness of this flashlight is strong enough for security purposes, yet it is versatile enough to be used for indoor or outdoor chores. Starting with a foundation of aircraft-grade aluminum, you'll enjoy using the zoom function to maximize output. Keep the mini light as a spare or give it as a gift and you'll be making a wise investment.
Click here to look at prices on Amazon and buy now.
This is another flashlight kit that offers you a second flashlight and the batteries/charger that you're going to need. The difference here is that you can receive up to 1200 lumens with the primary light, giving you a nice beam that lights up the surrounding area quite effectively. You even have enough light to keep track of your peripherals when needed. The case is strong and shockproof, covered with an anti-abrasive coating so that you won't collect scratches with use. If you want to save money and have a general-use flashlight combo, this is the set you'll want to consider right now.
Click here to look at prices on Amazon and buy now.
18650 flashlights are popular because they can maximize the output of an LED very effectively. In this particular model, you'll receive up to 2000 lumens with LEDs that are rated with a life of 100,000 hours. Invest in this flashlight and you won't need to replace the lamp any time soon, yet you'll still have 8 beam functions from which to choose. It is also one of the most waterproof flashlights in this category, rated to 100 meters (that's not a typo). It's a deep-diving design with sealed compression resistance.
Click here to look at prices on Amazon and buy now.
There are several different types of 18650 batteries that are on the market today. We recommend these because they are a high drain battery that offers a continuous discharge current of up to 20 amps. With a nominal discharge capacity of 2500 maH, the charge is rated at 4.2 volts, with nominal voltage at 3.6. You can rapidly charge these batteries in just 60 minutes with the right equipment. Although many flashlight brands use brand-specific batteries, if you're looking for a nice general set of 18650s, you'll love what these can do.
Click here to look at prices on Amazon and buy now.
The best 18650 flashlights and 18650 batteries will help you be able to see effectively in the darkest of environments. Find the flashlights, batteries, or kits you need and you'll be able to maximize your professional and personal adventures.