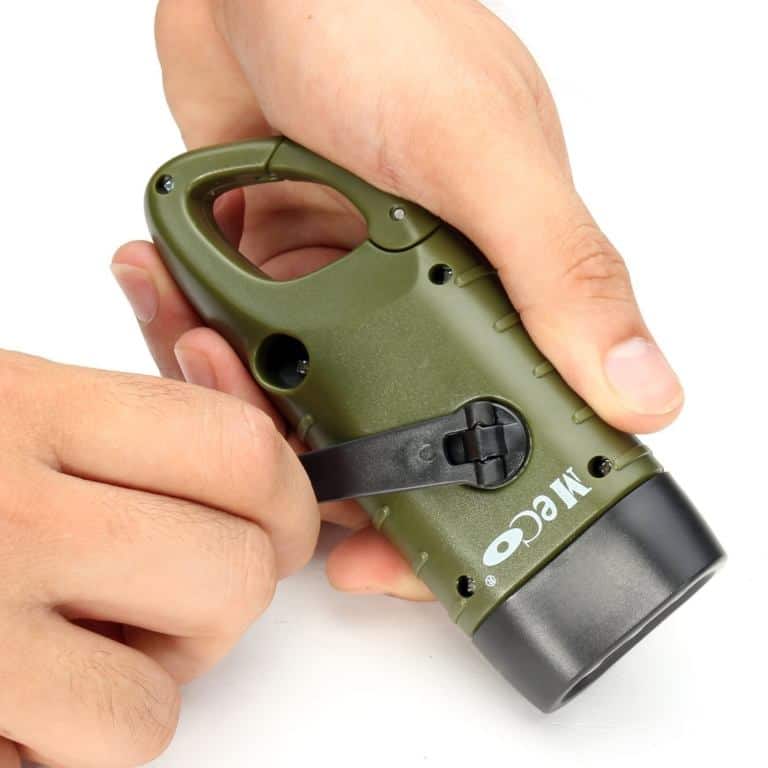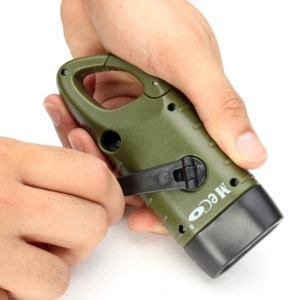 The power goes out. You can't find any batteries. The flashlight is dead. What are you going to do? Instead of lighting a candle, if you owned one of the best hand crank flashlights, you'd be able to create your own power with just a little elbow grease. Although the lumens ratings of a hand crank flashlight aren't going to blow your socks off, these mechanically powered lights can give you the illumination you need when there is no other power source available.
The Best Chart for Hand Crank Flashlights

Hand crank flashlights can come in many different sizes and shapes. Some are designed to fit in the palm of your hand. Others are complete emergency stations, offering a weather radio and options that can make weathering a storm a little easier to do. The chart below offers you the chance to compare and contrast the best of the best within this category.
When Were Hand Crank Flashlights Invented?

The first mechanical-style flashlights were invented during the 19th century. They were primarily used in the coal mining industry so that illumination underground could be achieved. These first flashlights were made from a steel disk and the user would rotate it at a high speed with a cranking mechanism. Then you could press a flint against the disk and this would create a rudimentary level of illumination.
This type of action led to their nickname: the "steel mill."
The need for this was clear: coal mines produced an explosive gas. Using standard candles to light the way was a truly dangerous situation. Yet these initial hand crank flashlights were burdensome to use, so a boy was often assigned the duty of providing light for each miner group.
Davy and Georgie's lamps revolutionized the hand crank flashlight industry just after the completion of the War of 1812, but the steel mills never really went away. The hand cranking technology proved to be the foundation of the technology behind the original cigarette lighters.
What Is a Hand Crank Flashlight and Why Do I Need One?

A hand crank flashlight is a model that is mechanically powered. This means it takes personal muscle power in order to generate energy. A storage unit within the flashlight will then take that energy and use it like a battery. This allows you to have the light you need without the requirement of having batteries or a place to recharge the flashlight. You just do it yourself.
There are several different styles of hand crank flashlights that are available today.
Winders. This is the standard type of hand crank that is used in this category. You wind a crank that is on the side or the bottom of the flashlight for 1-2 minutes. In return, you receive 1-2 hours of power. Larger cranks provide more power and tend to be included on the all-in-one emergency units.
Squeezers. This is the type of hand crank that is used on the smaller, more portable flashlights in this category. A small lever is placed on the bottom of the flashlight and you would squeeze this with your hand to receive power. These flashlights have a lifespan of 30-90 minutes before needing more energy.
Shakers. Some flashlights generate energy by having the user shake the unit up and down quickly and repeatedly. The energy is then stored in a capacitor or battery and will provide between 1-3 hours of use in standard situations.
Because these flashlights are always ready to be used, the hand crank flashlight is perfect as an emergency light. They're also a great tool to have for those who live in remote locations because shelf life does not affect the power storage capabilities of these flashlights.
It is an environmentally friendly product as well. These flashlights do not contain toxic chemicals and have no heavy metals to worry about.
What Are the Additional Features Available on Hand Crank Flashlights?

The best hand crank flashlights may come with a number of additional optional features. Each feature meets a specific need that you may have during an emergency situation. Here are some of the most common features that are available for consideration.
Radios. Many of the best crank-style flashlights come equipped with a radio. This may be an emergency radio, a weather radio, or even an AM/FM radio. Some even offer a shortwave radio.
USB Jacks. One of the most popular features on today's best hand crank flashlights is a USB jack that allows you to recharge a cell phone, tablet, or other mobile devices. The power created from the cranking or shaking is safe for electronics when this feature is included.
Solar Cells. This feature allows the user to supplement their cranking, squeezing, or shaking power with solar power. These flashlights tend to offer longer run times than others in this category.
You may also find features such as an A/C adaptor, cigarette lighters, and even tire gauges/inflators equipped to certain models. This allows you to take care of vehicle emergencies while also having alternative methods of charging the flashlight so you don't always need to be cranking it.
What Are the Prices of the Best Hand Crank Flashlights?

Hand crank flashlights are incredibly affordable. Even feature-rich models tend to have competitive pricing.
If you're looking for a small, basic hand crank flashlight, then the squeezers are your best option. These small flashlights offer a low lumens rating, but you can often purchase multi-packs of them for less than $15.
If you're looking for more of an emergency multi-tool than a basic flashlight, then there are several hand crank flashlights with radios that are priced in the $20-$30 range. Shortwave radio options tend to cost slightly more.
For a tool that can inflate tires, potentially jumpstart a vehicle, and provide a USB jack for power, you'll find most options are priced in the $50-$100 range. Many of these flashlights also offer strobe lighting and variable color lighting for roadside emergencies in addition to the power outage support they provide.
Here's Our Top Picks

This is the hand crank flashlight you'll want if you're looking for a no frills experience. It offers you the traditional flashlight look and experience thanks to the crank that sits flush with the case when not in use. What we really appreciated about this flashlight, however, is how versatile it happens to be. You can use it to charge your smartphone or mobile device with a built-in USB port. It also has tools that allow you to break a window or cut through a stuck seatbelt. It's the perfect addition to any emergency kit.
Click here to look at prices on Amazon and buy now.
This small hand crank flashlight gives you a lot of power for just a little cranking. Just one minute of cranking gives you an hour of light that can be used. It's small enough to fit into a pocket, so throw it into a glove box so you have an emergency light when needed. It is rated IPX6, so there is a certain level of water-resistance built into this design too. You also have a solar charging option that can give you two hours of light after one hour of charging.
Click here to look at prices on Amazon and buy now.
This hand crank flashlight also has an IPX6 rating and gives you a three-function LED experience. You can charge via a built-in solar panel if you prefer as well. It's protected by a 5-year warranty and provides you 1 hour of 3 LED light with just one minute of hand cranking. We found that the light levels would go beyond the 60-minute mark. There isn't a USB port on this device, however, so if you want that feature, you'll need to look at one of the other best hand crank flashlights to fulfill your needs.
Click here to look at prices on Amazon and buy now.
This is your all-in-one emergency solution. Not only is it a 3-LED flashlight, but it is also a mobile phone charger. In addition to charging via a solar panel, it can also accept a charge from any standard household outlet. You'll receive a 3-band radio with this flashlight as well, which includes AM/FM and VHF weather frequencies. The radio is equipped with a digital tuner so you can accurately find the station you need. If you want something that is built to last when times get tough, this is the flashlight you're going to want.
Click here to look at prices on Amazon and buy now.
Lots of hand crank flashlights can give you a decent amount of power for a minimal period of cranking. Some will provide you with a radio as well. This power bank will also charge a cell phone if you need. It also provides you with a complete Swiss knife tool set so you can get out of a sticky situation if need be. An alarm is also equipped with this flashlight, based off of a 1500 mAh power bank. It really is the one tool your emergency kit needs this year.
Click here to look at prices on Amazon and buy now.
The best hand crank flashlights give you power when none may be available. You can be your own generator and keep your mobile devices charged with many of these models. Find your preferred flashlight with the features you need and you'll be one step closer to being prepared for whatever emergency may come your way.