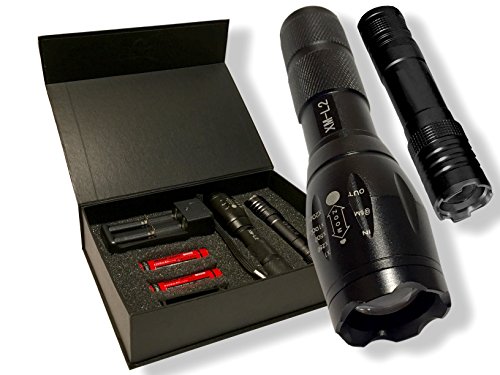 When you look at many of the best and brightest LED flashlights for sale today, what you end up purchasing is an empty shell. You might pay out a decent investment to get the flashlight, and then realize you have to purchase the batteries separately. With the Dax Tactical LED Flashlight Kit, you're going to get everything you need for a very reasonable price.
This kit includes a flashlight that is rated at 1200 lumens, a second flashlight that is rated at 700 lumens, and two 18650 lithium-ion batteries to run the flashlights. You'll also receive a dual cordless battery charger so you can actually charge both batteries at the same time.
If you're looking for a gift for that person in your life who loves flashlights, you can't go wrong with this kit. Here's why.
Dax Tactical Has Created a Kit that Really Stands Out

When you look at the primary LED flashlight in this kit, you'll find that it has been equipped with 5 modes and offers an adjustable focus. The flashlight itself is equipped with reliable XM-L2 lights that are protected by an aircraft-grade aluminum alloy head. This gives the flashlight a rugged design and the rigid head really does a good job of breaking glass.
The second flashlight, the DX5 model in this kit, offers an XPE Q5 kit, so the flashlight isn't as bright as the primary model. It is rated at 700 lumens, but we found the output to be a little less than this. It's more of a backup flashlight, but for household use or light duty needs, it could serve as an affordable primary light.
As part of the kit, you'll also receive an AAA battery emergency converter so you can still use this flashlight if the 18650 batteries wear out before you can get them back to the charger. When put together, this is a kit that will meet most needs, including some tactical needs, without difficulty.
Quality Ratings for the Dax Tactical Flashlight Kit

From an overall perspective, the Dax tactical flashlights are relatively sturdy. Although you wouldn't want to run them over with your vehicle, the anodized finish and anti-abrasive lens help to maintain the quality of light that you're able to receive with these flashlights. They are also shockproof, so you can drop it from waist-high and still wind up having a flashlight that keeps working for you.
On the high settings, we were able to achieve about 2 hours of use. On the lowest settings, we could get about 10 hours of life out of this flashlight.
We also appreciated the hard case that allows you to keep everything that comes with this set in one location. That makes it easy to store your equipment when it is not being used.
In our industry, not many products can surprise you. After all – it's a flashlight. The quality of the Dax Tactical Flashlight Kit, however, is one of the exceptions to the rule. It's bright, it's reliable, and it is quite affordable. If you want a one-stop solution, get this kit and you won't be disappointed.
Click here to look at prices on Amazon and buy the Dax Tactical LED Flashlight Kit.