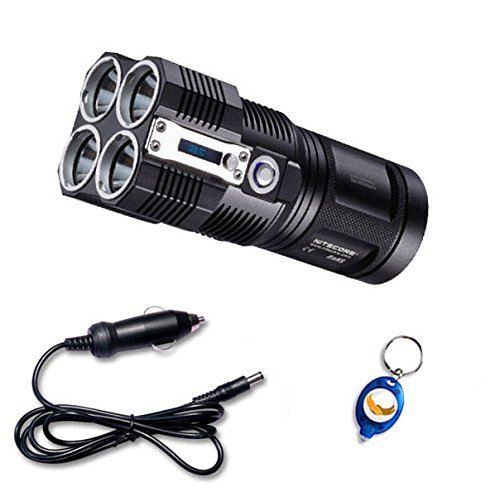 Sometimes the only thing you really need from a tactical flashlight is a big blast of light. Something that will blind a bad guy or light up a specific area in a reliable way. That's exactly what you'll receive with the NiteCore Tiny Monster TM26 flashlight. This is one of the few quad-ray flashlights on the market today in any category and it has reasonably long running times for each of its 5 standard beam settings.
45 minutes at up to 4000 lumens.
2.5 hours at 1700 lumens.
8.25 hours at 540 lumens.
48 hours at 95 lumens.
1,000 hours at 3 lumens.
Those ratings are achieved when you use four of the best 18650 batteries that are on the market today. You can also choose to use eight CR123A batteries with this flashlight if you prefer, which will increase the turbo running time up to 1 hour, but decrease all of the other ratings.
But lumens and run times are not the only ways to measure up the value of a tactical flashlight. Here are some of our other observations.
This Is Easily the Most Powerful and Smallest Tactical Flashlight

In many ways, our first impression of this flashlight was that it was more of a keychain or pocket flashlight than a tactical flashlight. It's size, however, is not reflective of the lumens output that can be achieved. The illumination from the XM-L2 U3 LEDs by Cree with the quad-ray design really does create a very bright light.
Thermal protections are built into the circuits of the flashlight, preventing them from overheating during longer run times. You'll notice the flashlight becoming warm after some time, but it doesn't become hot to the touch.
A standard mineral glass protects the LEDs, but it has been given an anti-reflective coating so the beam produced stays smooth and pure. Because of this, however, you'll want to avoid dropping this flashlight on its head. The HA-III military-grade hard-anodized case will survive virtually any fall, but the glass lens will not.
The NiteCore Tiny Monster Really Is Waterproof

Armed with an IPX8 rating, this little flashlight can be submerged in water and it still will not flood. With a depth rating of 2 meters, you won't want to take it diving with you, but you won't have to worry about taking the flashlight out into the weather for outdoor chores or your professional duties.
You also have flexibility within the beam strength that the NiteCore Tiny Monster is able to achieve. You have 8 total light settings from which to choose, using a two-stage patented switch from a single button so that the OLED display and interface work well together.
Although its size might put some off since it reduces the "tactical" feel of this flashlight, the NiteCore Tiny Monster TM26 proves that you shouldn't judge a flashlight by your first impression of it. This flashlight won us over and earns our highest recommendation.
Click here to look at prices on Amazon and buy the NiteCore Tiny Monster TM26.