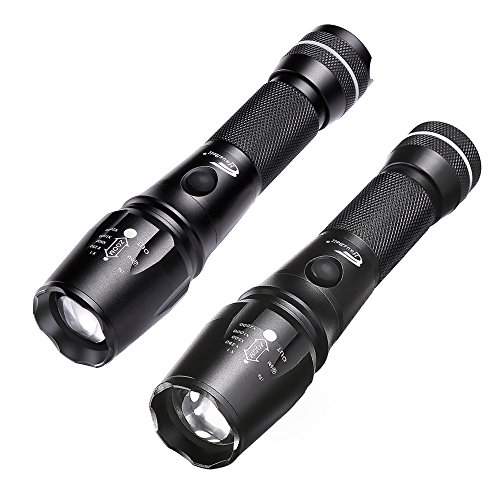 Can you expect good things from a flashlight priced under $10? Is it possible to receive a steady stream of smooth light from a cheap flashlight? The Hausbell T6 LED flashlight torch comes in a 2-pack at a price that you'll pay for just one flashlight most of the time. Despite this fact, the flashlight is jam-packed with features and even gives you multiple power options.
It is a practical flashlight that is designed for the price-conscious consumer of the 21st century.
What Are the Features of the Hausbell T6 LED Flashlight?

The primary feature we like is the fact that you can use 18650 rechargeable batteries with this flashlight. This gives you a remarkably solid light that stays strong all night long if need be. You can also use 3 AAA alkaline batteries if you prefer, though the high setting with the alkaline batteries is similar to the low setting with the rechargeables.
We also found these features to stand out when taking a look at the Hausbell T6 LED flashlight.
It offers 5 different light modes, including a strobe function and a flashing SOS, in addition to the standard high, medium, and low light beams.
The beam is focus-zoomable, so you can go from a wide-angle flood-type of beam to a narrow spot-style of beam in just seconds.
It has been given a somewhat tactical design feel thanks to the lotus-shaped head, skid-proof texturing, and added water resistance.
The features of the Hausbell T6 LED flashlight make it an affordable addition to your hunting or camping packs, for hiking and climbing, or standard household use. Since you're receiving a 2-pack, you could also throw one into your emergency kit and use the other thanks to the great price on this flashlight.
Unlike other flashlights at this price point, the Hausbell also has a lens made from glass. Although we didn't test it, the manufacturer says that breaking the lens is easy to do so you have another form of self-defense. After taking a look at this flashlight, we have no reason to doubt this claim.
One Word of Caution About the Hausbell T6 Flashlight

This flashlight does have a lot of good stuff that comes with it, but the quality of the flashlight isn't really for daily use. If you're looking for a flashlight that you may need to use multiple times every day, we can see the lifespan of this product being 60-90 days at most. If you're purchasing something at coach prices, however, it is difficult to expect first-class accommodations in terms of craftsmanship and materials.
Otherwise, the Hausbell T6 LED flashlight torch performs as one would expect any flashlight to perform. The tint is slightly above neutral, the lumens peak at 1,600 as a rating, with the low setting at 100, and at the end of the day, you're left with the light you need. For that reason, if you are looking for an affordable flashlight, we strongly recommend this one to meet your needs.
Click here to look at prices on Amazon and buy the Hausbell T6 LED Flashlight Torch.