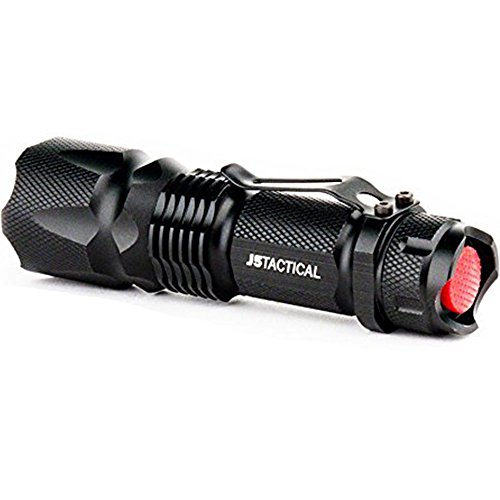 The best flashlights sometimes come in small packages. They can be brighter, more durable, and even give you a tool for self-defense. That's certainly the case when it comes to the J5 Tactical V1-Pro 300 lumen ultra-bright flashlight. Rated for a max output of 300 lumens, you'll find that this flashlight is easy to use, is incredibly durable, and won't cost you an arm and a leg in order to own.
If you've always been interested in trying a tactical flashlight, we highly recommend giving this model a try. Here's why.
What Are the Features of the J5 Tactical V1-Pro?

You can run this flashlight off of a single AA alkaline battery or choose to use a 14500 rechargeable battery. We found that you receive a better light output when using the rechargeable lithium-ion battery compared to the AA size.
It is able to produce a beam of light that stays relatively consistent for up to 600 feet when using the lithium-ion battery. We found that beam strength was about 25% lower when using the alkaline battery.
It features a continuous running time of just 1 hour per charge, though for standard household use, this means replacing or recharging the battery about twice per month.
It weighs just 2.2 ounces. That makes it perfect for hunting, hiking, or camping.
The case is resistant to corrosion and corrosive environments. If you leave in a seaside community, you won't need to worry about this flashlight case rusting out on you. Take it out to the beach for your clamming, crabbing, and fishing.
It has a certain level of water-resistance built into the case. You can't submerge it in water, however, because that will flood it out. We'd estimate an IPX4 rating on this particular flashlight.
When it comes to flashlights, you'll find that many manufacturers tend to ramp-up their performance claims. With the J5 Tactical flashlight, you're getting the real deal here. The tint of the light is close to neutral; it clips securely to your belt or pocket, and the results it provides is nothing short of amazing.
What Could Be Improved with the J5 Tactical Flashlight?

Considering the price of this particular flashlight, the results speak for themselves. With that being said, there are a couple of changes that would help to make this flashlight even better. It would start by upgrading the LED light in this model. Using a U2 or U3 would enhance what this flashlight already does best.
It would also be nice to be able to focus the beam of this flashlight in some way. The housing is rugged and the entire style speaks to a tactical design, but adding this one feature would really help make it more of a true tactical experience.
The casing is also a little over-sized if you're using a single AA battery. We found the results were much more inconsistent with an alkaline battery.
This flashlight will not compare to a genuine tactical flashlight meant for law enforcement purposes. With that said, for home use and for certain professions, this is an affordable investment which makes sense. We weren't disappointed by this flashlight and think you'll love it like we do.
Click here to look at prices on Amazon and buy the J5 Tactical V1-Pro 300 Lumen Ultra Bright Flashlight.