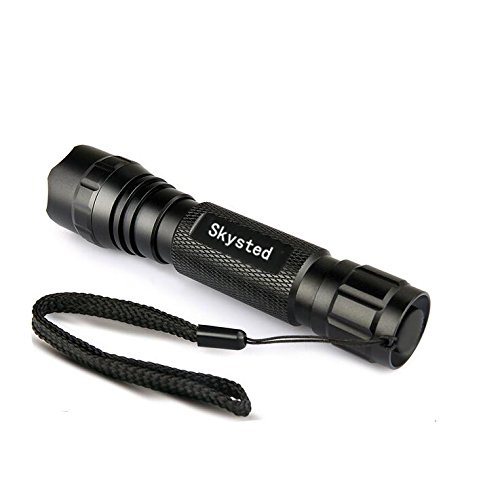 Most handheld flashlights are designed for basic household use. They're good for a walk around your neighborhood, but maybe not as you try to navigate around a farm at night. The Skysted WF-501B 1200 lumen mini flashlight will change your perspective about what a miniature flashlight can do.
Not only is it as bright as indicated, but also gets the basics right. Instead of trying to back a ton of features into this light, Skysted gives you one option: turn the flashlight on or turn it off.
What Are the Components of the Skysted Mini Flashlight?

Since this flashlight is low on features, it becomes important to look at the quality of the components that were used to construct this Skysted model. The first thing that stands out is the LED itself. Instead of using T6 LEDs like many miniature flashlights, this model has been equipped with the newer U2-U3 model. This naturally makes the flashlight brighter than others at this price point.
Yet you still receive an aluminum alloy body case that is relatively sturdy. It's not the anodized aluminum that you'd find on a tactical flashlight, so the impact resistance ratings are a bit lower with this model than others like it, but the ease of use makes up for this minor issue. The back button is one-click convenience. You don't have to worry about a half-press or light pressure. Just pick up your flashlight and use it.
It also offers multiple battery support. We found the best beam of light came from the use of an 18650 battery, but the design allows you to use a CR123-CR123A battery or a 16340 battery if need be.
How to Unlock the Potential of the Skysted WF-501B Flashlight

If you want to get the most out of this flashlight, then don't skimp on the battery. Invest into one of the best 18650 batteries that are available today. Avoid using the cheaper 18650 batteries because this will reduce the lumens that the flashlight is able to achieve. The CR123 batteries are more of an emergency replacement than a long-term solution.
Why mention the battery? Because you'll need to purchase a battery to use with the flashlight. No batteries come out of the box. Don't forget that you may need to purchase a charger for your battery as well if you decide to go with the rechargeable version.
If you're expecting your flashlight to be able to focus the beam, then this is not the model for you. It is a standard beam of light that is a good compromise between a flood and spot beam.
One note of caution: with prolonged use, we found that the lens and head of the flashlight can get hot enough to be uncomfortable to the touch.
So if you're looking for a flashlight that gets the basics right and isn't going to cost you a fortune, then the Skysted WF-501B mini flashlight is one of the best value purchases in our industry today. It definitely earns our strongest recommendation.
Click here to look at prices on Amazon and buy the Skysted WF-501B 1200 Lumen Mini Flashlight.