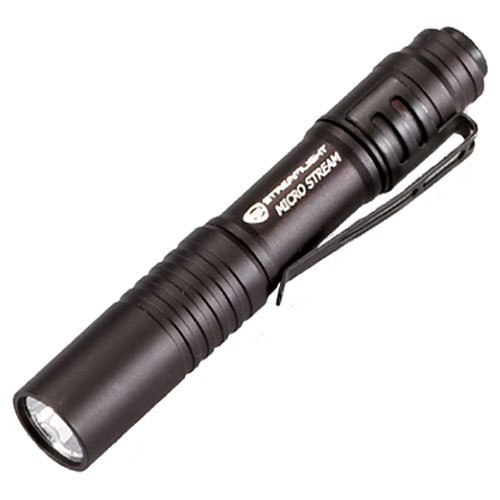 A good penlight is one of those tools you don't realize you need until you own one. The only problem is that some penlights are about as useful as a pen that doesn't have any ink. That certainly isn't the case for the Streamlight MicroStream C4 LED penlight. This miniature flashlight features a micro-optical system that gives you a maximum level of brightness and run time, every time.
And, unlike other Streamlight flashlight models, the MicroStream is competitively priced for what it is able to provide.
What Are the Features of the Streamlight MicroStream?

The primary feature of the MicroStream C4 LED penlight by Streamlight is its overall case construction. It is one of the few flashlights in this category that is water-resistant, with an estimated IPX4 rating. This means it could be splashed with water, but submerging it could flood it out. That means you have multiple environments with multiple use options for this highly affordable flashlight.
There are additional features that also add to the value investment this flashlight by Streamlight is able to provide.
It features a 0.5-watt LED with an extra bright beam that gives you up to 30,000 hours of LED life.
A traditional pocket clip has been included with this flashlight, allowing you to actually store it as you would a pen.
It features a tail cap switch with a simple on/off mechanism that allows for one-handed use without the need for half-pressure switches, slides, or levers.
A single AAA alkaline battery powers the Streamlight MicroStream and this gives you the foundation of a 683 candela peak beam intensity. That's the equivalent of 28 lumens at a beam distance of over 50 meters. It weighs barely an ounce, has a total length of 3.5 inches, and offers a scratch-resistant polycarbonate lens that stands up to daily wear and tear.
Here's What You Need to Know About the Streamlight MicroStream

With a full battery, you can receive about 2 hours of continuous run-time with the Streamlight MicroStream penlight. This running time is not affected by continuous switching of the power like some other flashlights.
The marketing materials for the MicroStream describe this flashlight as being "waterproof." This is clearly not the case, especially since it has been specifically rated as being IPX4. Do not submerge this flashlight in water. It will ruin it.
Every opening for this flashlight is sealed with an O-ring that is of a reasonably good quality. It's going to keep most outdoor moisture out of the flashlight, but be careful if using the MicroStream on a cold day. The O-rings may shrink just a little and drop the water-resistance ratings of the flashlight for all practical purposes.
If you're looking for a flashlight that gets the basics right and is priced competitively, then the Streamlight MicroStream C4 LED Penlight will get the job done. Take care of it and you'll find that it will take care of you.
Click here to look at prices on Amazon and buy the Streamlight MicroStream C4 LED Penlight.